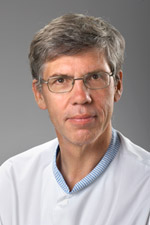 Floris completed his medical education at the Medical School of the Erasmus University Rotterdam, the Netherlands in 1984.
From 1984-1986 he worked at the Institute Physiology I of the same university, which lead to his PhD thesis entitled: "Perinatal hypoxia and visual functions in infants and children" in 1988.
From 1986-1991 he was trained in pediatrics in the Sophia Children's Hospital in Rotterdam. His fellowship neonatology was divided between the Sophia Children's Hospital and the Wilhelmina Children's Hospital in Utrecht, the Netherlands. Since April 1993 he is staff neonatologist of the Wilhelmina Children's Hospital/University Medical Center.
In 1994 he spent his post-doc period at the Department of Physiology of the University of Pennsylvania PA, USA. The main focus of his scientific research is early detection of neonatal brain injury (including MRI techniques) and neuroprotection. He has obtained grants from different sources including The Netherlands Organisation for Health Research and Development ZonMW. Dr. Groenendaal has been involved as co-promotor in 11 PhD studies, Publications cited in PubMed include more than 300 papers.
He is member of many professional societies such as American Society of Paediatric Research, European Society for Pediatric Research, and the Dutch Paediatric Association. He has been editor of Paediatric Research and the Netherlands Journal of Paediatrics.
Floris Groenendaal, MD, PhD
Scientific advisor