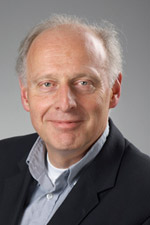 Until 2015, Frank was a full professor and director of the Department of Neonatology of the University Medical Center in Utrecht, The Netherlands. His research is focused on mechanisms of perinatal brain damage and, related to this, neuroprotective strategies involving pharmacological neuroprotection as well as neuronal regeneration using stem cells.
He is, among other research projects, Principle Investigator of 3 funded projects on "Regeneration of brain damage using autologous stem cell transplantation" (p9 mice); "Pharmacologic neuroprotection after hypoxia-ischemia investigated in the rat (p7) and mice (p9) pup" and "Long term effects of neonatal corticoid treatment" (clinical follow-up of 15-20 y old ex-premature babies) respectively.
Besides his directorship of the Department of Neonatology, he is also a member of the Management Team of the Division of Mother & Baby, including the Departments of Obstetrics, Neonatology, In Vitro Fertilisation and Gynaecology, and the PsychoNeuroImmunology Laboratory and has various teaching tasks. He was chief-editor of the "Dutch Ultrasonoor Bulletin", of the "European Journal of Ultrasound" and of the "Dutch Journal of Paediatrics".
Currently he is a member of the Editorial Boards of "Neonatology", "Current Paediatric Reviews" and "Anales de Pediatria" (Spanish). He is reviewing many manuscripts of various international peer-reviewed journals. Professor Van Bel is member of the American Society of Paediatric Research and European Neonatal Brain Club and has various professional connections with other European and American research groups in the perinatal field (Gothenburg; Copenhagen, Zürich, Leuven (Belgium), Sienna (Italy), Los Angeles (USC) and the University of Stanford.
Prof. Frank van Bel, MD, PhD
Scientific advisor